Madrid: This is Bernabéu 2017!
source: StadiumDB.com; author: michał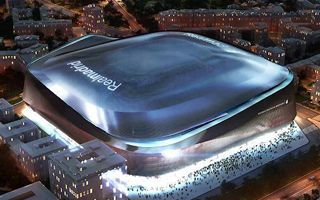 15 months after the selection of four finalists, Real Madrid finally announced winners of the international competition. As predicted, German GMP Architekten won with their bid.
Today at 1pm (CET) the royal lounge of Estadio Santiago Bernabeu saw a special press conference, entirely devoted to Real Madrid stadium's future. As predicted, club president Florentino Perez announced that the concept of GMP Architekten will be implemented.
This means the stadium will receive a new outer shell, assymetric and futuristic. The cladding is to be metallic, but not solid - the skin will form horizontal blinds, under which lights and images will illuminate the facades at night. The stadium will also be equipped with retractable roof atop the pitch, opening or closing in 15 minutes. Under the roof one huge giant screen will be positioned, encircling the inner edge of the roof and giving a panoramic view to all fans.
It's been 15 months since Real selected four finalists in its international competition. Since then the selection of final vision has been postponed several times, reportedly due to talks with architects.
In October 2012 the final of the competition saw some of the best stadium designers worldwide qualify: Herzog i de Meuron + Moneo; GMP Architekten + L35 Arquitectos + Ribas&Ribas; Foster + De la Hoz; Populous + Estudio Lamela.
For a few months it's been reported that GMP Architekten are the ones selected, now working on final version of their concept. This was confirmed today as updated renderings were presented.