Debrecen: Stadium to be ready within 3 months
source: sporthirado.hu / haon.hu; author: michał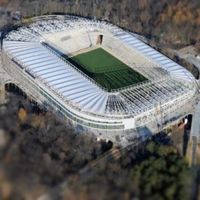 The time frame for this stadium was always a very tight one. However, not only will the contractors meet all deadlines, but even finish earlier. The 20,000-capacity new arena is to begin tests in early April to host its first event already one day after construction formally ends.
Yesterday the construction site of Nagyerdei Stadion was visited by officials, who inspected the infrastructure underneath main grandstand. The office/commercial building in the west is already painted and has all windows, seeing finishing works inside ongoing.
Also ready are the concrete stands to hold over 20,000 people and the steel structure of the roof. Membrane sheets are now being installed atop the stadium, possibly to be all in place within the next two weeks. By the end of January floodlights will be ready as well.
The football pitch, laid in late October, is in fine shape and should withstand all remaining construction work without problems.
Worth keeping in mind, it hasn't even been one year since this project began and it's already at 80% overall. Demolition of the old ground began in late January 2014, while foundation works for new stadium were done in February-March.
Despite the short duration of the project, both main contractors Hunép and Épker are hoping to deliver the stadium ready for use on April 30, as planned. While very often the stadium is tested only after delivery, in this case tests and clearances are to take place since early April, meaning that opening may take place (and probably will) on May 1.
The stadium will almost certainly change its name by that time. The historical Nagyerdei Stadion (Great Forest Stadium) is to be modified, however details haven't been approved yet.
Below you can see the stadium in aerial photos, which are quite "old", taken in early December: