Belgrade: New national stadium details needed immediately
source: Telegraf.rs; author: michał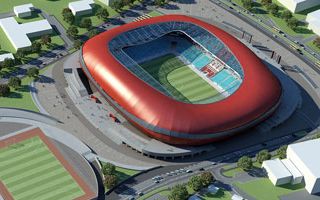 Without improvement in stadium infrastructure Serbia may be forced by UEFA to play outside the country. Also, if the country seriously hopes to snap a place among 13 hosts of Euro 2020, national stadium needs to become more realistic, Telegraf.rs reports.
The plan of building a new national stadium in Serbia was announced first in Spring last year. Then in September the Serbian football association, FSS, confirmed the bid to host Euro 2020 at the new structure.
Serbia has high hopes of becoming the heart of Balkan football with the scheme and a new stadium is seriously needed. UEFA already threatened that top clubs and national team might be forced to play outside the country if stadium infrastructure doesn't improve fast.
The pressure of time is growing, yet not much has changed according to Telegraf.rs. The new stadium still has no financial plan and building a €300-500 million arena to hold 50,000 people is certain to require solid financial guarantees. The government has to participate at least partly in the project. FSS hopes to gain aid from UEFA, but that would only form a small piece of the budget. Private investors are also not likely to deliver all of the funds needed.
Not only that, Telegraf.rs goes on to remind FSS that there is not even a location specified as appropriate or preferred. Not even a specific area of interest in or around Belgrade. So far several options were named, like Zemun, Borca or Šimanovci, but none of them is solid. Less likely is the site of current stadiums or Partizan and Crvena Zvezda, because meeting traffic/parking requirements there might prove to be a challenge.
And finally, becoming ironic, Telegraf.rs goes on to illustrate the stadium plans with the red-coloured stadium planned in... Bosnia and Herzegovina (seen above). The portal reminds football governing body that time is running out and preliminary drawings and a rational scheme has to be in place by March if a serious bid for Euro 2020 is to be submitted in late April.