Barcelona: Giant necropolis under Camp Nou?
source: StadiumDB.com; author: michał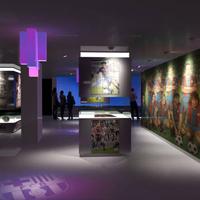 Whether at the revamped Camp Nou or completely new stadium, there will be room for 30,000 urns for those wanting to 'bond for eternity' with FCB. This is expected to be the world's largest stadium-based cemetery.
During today's press conference FC Barcelona announced the start of burial services within the club. Initially 500 places are being released at the Les Corts cemetery, however the eventual mausoleum will be created within the new stadium – whether it's revamped Camp Nou or a new structure.
Barcelona's director of facilities, Josep Ramon Vidal-Abarca, told the Guardian: "This is in response to the historical demand from members who want their remains laid to rest at the stadium."
The planned 'Espai Memorial' will provide room for 30,000 urns, becoming the largest stadium-based necropolis in history. Prices range from €3,000 all the way up to €6,000 to buy a space for between 50 and 99 years.
FC Barcelona isn't the first club to launch such services even within the city of Barcelona. Espanyol opened their mausoleum for 20,000 urns back in 2009. Other Spanish clubs also have their 'memorial spaces'.