Trondheim: Rosenborg's stadium to see commercial boost
source: StadiumDB.com; author: michał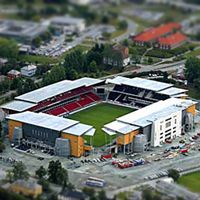 Hotel with some rooms overlooking the football field and an extensive conference centre attached to the main grandstand – these changes will be available already next season at Lerkendal. To match the new, higher standard, the main stand will also be renovated.
Already by the end of June 2014 the changes should be done and they are more than significant. Lerkendal Stadion sees a skyscraper built right next to it. The Scandic-chain building is already the third tallest in Norway with 75 meters.
The sole height and proximity to the stadium gives some room only a slightly obstructed view of the field. "Most likely some rooms will give a chance to see games. It's going to be a fun bonus for those lucky – or conscious – guests visiting the hotel on matchdays", says Odd Ivar Vile, project manager for HENT, the general contractor.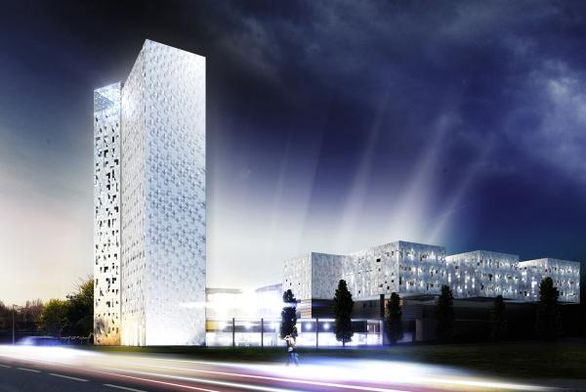 Rosenborg BK isn't a shareholder or investor of the hotel. The club sold part of its land next to the western end of Lerkendal and formally has nothing to do with the project. However, two neighbours are hoping for a friendly and close cooperation. RBK will see its own wall of fame at the hotel, through which some of its VIP guests will enter the stadium from mid-2014.
At the same time both sides can work together to bring events to the complex as their offer is supplementary to one-another. To add further advantages, there will also be a conference centre directly attached to the southern main grandstand of Lerkendal. Working as an independent event centre on weekdays, it's going to supplement the club's hospitality zone on matchdays.
Due to the large investment Rosenborg are also planning a refurbishment at their main stand, making sure it matches the new standard. As club officials say, it's a bit worn out after a decade of regular use.
As for the exterior, changes will be minor – façade is to be changes from partly yellow to a more pale colour. Inside and in the stands equipment and furnishings are to be changed, making way for fresh décor. And, of course, improving the commercial potential of the stadium itself.