Poland: No new stadium for Chorzów, change of plans
source: StadiumDB.com / Niebiescy.pl / PrzegladSportowy.pl; author: michał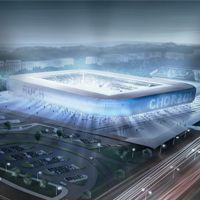 Somewhat unexpected decision came from the Chorzów city council vote today, putting the planned new stadium for 14-time Polish champions back on the shelf. Ruch Chorzów will instead move to the 55,000-capacity Stadion Śląski, becoming its anchor tenant.
In recent months the municipality of Chorzów ran its international design competition for Ruch's new stadium. The city's abilities only allowed to plan a 12,000-seater (with room for expansion later), but during today's vote the city council turned the plans down.
After a heated debate, overlooked by Ruch supporters from the balcony, the councilors took on an amendment to the 2014 budget, reverting the PLN 10 million for ground works. Instead, 40% of that amount will be transferred to Ruch in exchange for promoting Chorzów in domestic football.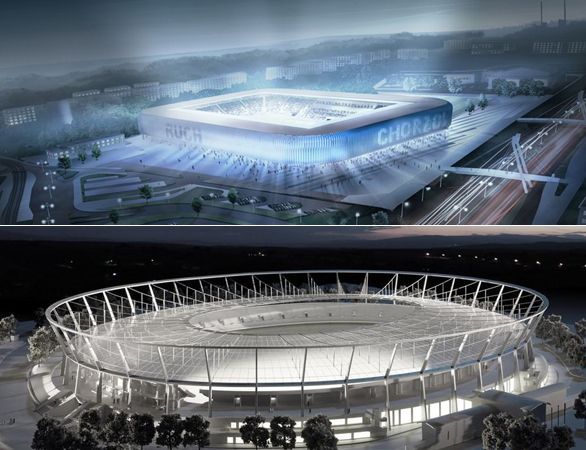 To not lose its spot in Poland's top league for infrastructural reasons, Ruch will now have to move to Stadion Śląski, another venue in the city, but not owned by local authorities. The giant will hold up to 55,000 people, becoming Ekstraklasa's largest stadium in decades.
This option was suggested as preference by the club's president Dariusz Smagorowicz and received heavy lobbying in recent weeks. The move was often described as the only chance for return to glory as the record-holding 14-time champions now struggle to make ends meet.
However, no-one so far was able to present a business model that would see a club with average attendance of 5,000 fill a stadium over ten times larger. This is why opponents of the move claim it may see the end of the club altogether as Ruch is likely not to bear a burden of such a large stadium.
Ruch Chorzów supporters association is disappointed with the turn of events, while some fans in attendance during today's vote left the town hall woeful.