New York: Manchester City closer to building their American stadium
source: StadiumDB.com / NYDailyNews.com / NYPost.com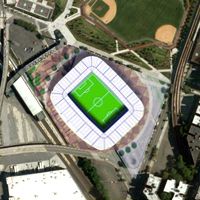 The soon-to-be MLS franchise New York City FC, owned primarily by Manchester City, is said to be very close to seal a land deal for their new stadium. The $400-million project is expected to grow aside the large Yankee Stadium in Bronx.
As of 2015 New York City FC should be part of MLS expansion. The club, founded by Manchester City and NY Yankees, has been looking for a land to settle on for months. A new 28,000-capacity stadium with extensive commercial facilities is thought to cost a stunning $400 million (€290m).
Now the decision seems to be made as investors are said to be close to penning a deal with GAL Manufacturing, a Bronx-based elevator factory. The factory employing 350 people lies just south of the Yankee Stadium and would be relocated with New York City FC covering the moving cost.
To secure enough land in the dense urban fabric of New York the club would also need to demolish a multi-story parking lot. Here the case is more simple, because Bronx Parking Development company is bankrupt and getting hold of the land across the street from GAL Manufacturing would require 'only' covering some of the company's debt, roughly $25 million.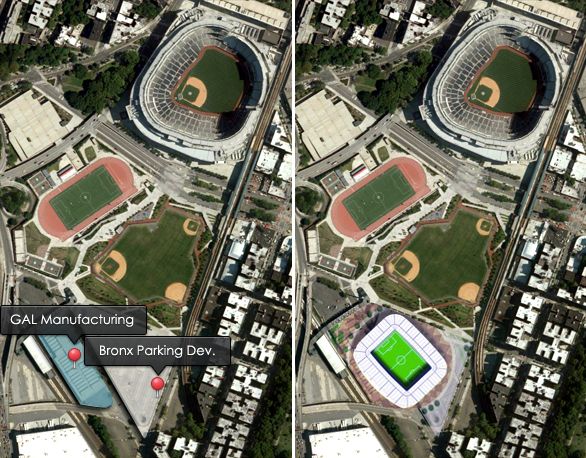 The land is owned by New York and the newly formed club will not need to pay for it. Another financial relief for the project is freeing it of taxes for up to 35 years. City officials are scampering to sign a deal by the end of this month for $300 million in tax-free bonds that are supposed to cover the new complex.
The new franchise would also be permitted to divert the property taxes it would normally owe the city to pay off its bonds, the sources said — a deal similar to the one the Yankees and the Mets got for their new stadiums in 2005. The soccer club would be exempt from sales taxes or mortgage taxes.
However, the team will not move forward without mayor-elect Bill de Blasio's blessing, and he has not yet reviewed the deal, sources said. However, just as his predecessor, the new mayor is expected to back the scheme.