New stadiums: Canberra and three from Sydney
source: StadiumDB.com; author: StadiumDB.com team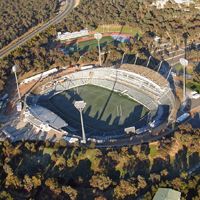 After much too long break we return to Australia and bring you presentations of four more stadiums. And since football and fan culture are blooming there, we're sure to check Australia more often now!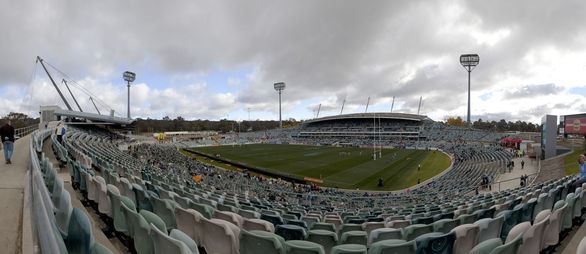 Located in Canberra's western suburb of Bruce (Hus the initial name Bruce Stadium), the stadium is part of the Australian Institute of Sports. It dates back to 1977, when it opened its doors for the first time as an athletic stadium.
With its athletic track and considerable size it was soon rebranded as the National Athletic Stadium and hosted major events. Two of them were the Pacific Conference Games and IAAF World Cup in Athletics.
In late 1980s the running track was removed and gave room for sports played at oval fields, most notably the Australian football. Attempts to hold cricket games here also happened, but remained fewer.
The stadium switched from oval to rectangular (or football/rugby-specific) in 1997, ahead of the 2000 Olympics, during which the stadium saw two football games. Stands were now sunken lower into the ground and brought closer, but remodeling cost seven times the early estimates, causing huge controversy.
Two football clubs grabbed tenancy of the stadium, Canberra City FC and Canberra Cosmos, but both were dissolved not long afterwards. Third attempt came in 2009 as A-League franchise was to be given, but Canberra lost the race to Sydney and Melbourne.
The stadium has been subject to demolition plans over the last several years, but so far none of them came to fruition.

The history of sports in this precinct of Parramatta, western suburbs of Sydney, goes as far back as to mid-nineteenth century. Though it was horse racing and cricket at that time, this is still a background many stadia around the world don't have.
The current stadium's story is more simple: work began in late 1984 and was done within a year. Opening took place in early 1986 and Queen Elisabeth II herself opened the stadium.
With a few decades of operation behind the stadium today, there's been a variety of events held here. Along rugby use there were also concerts of world's greatest performers, like Michael Jackson or Paul McCartney. For us it's the football that matters most, though. This discipline settled here last, in 2012. This didn't stop Western Sydney Wanderers from building a solid fanbase.
In late 2013 the stadium gained its first naming rights partner, local company Pirtek. The sponsorship coincided with plans to refurbish the stadium that is seen as somewhat outdated, especially in terms of corporate facilities. Works should be delivered in 2015.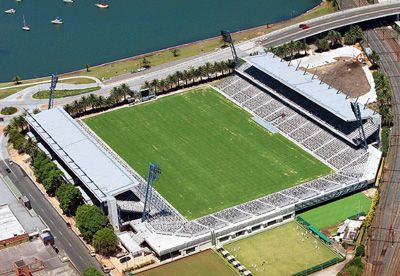 Sports in this picturesque location in central Gosford were played since 1915. Plans to build the current stadium date back to 1990s, when a major rugby team, North Sydney Bears, was expected to move here. Construction was expected to end in 1999, but due to weather conditions was delayed to early 2000.
Ironically, the rugby side never began to play here as they merged with another team at that time. With the unexpected turn of events only some games were held in the first years of the stadium's operation, like the 2003 Rugby World Cup.
It wasn't until 2005 that an anchor tenant was found, this time a football club, the A-League Central Coast Mariners. The club remains the ground's main user to date.
Stands at the stadium have an interesting layout. There's no south stand and the end zone is open towards the Brisbane Water with only a row of palms in the way. Both side stands are double-tiered and partly covered, while the north end is an open single tier.
In its short history the stadium already had several different naming rights partners. All names are derived from Central Coast Stadium, the formal name, which replaced the Grahame Park naming from 1915.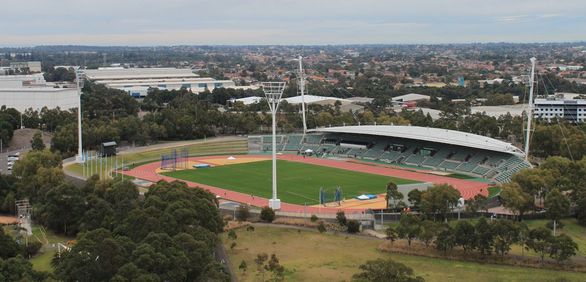 One of three athletic stadiums created within the extensive Sydney Olympic Park. The stadium lies south of ANZ Stadium and has one covered stand holding up to 5,000 seated spectators.