New design: Stadion Olimpii Grudziądz
source: StadiumDB.com; author: StadiumDB.com team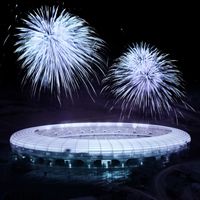 It's simple, but elegant and well thought-through. Though some architecture offices never came up with designs that good, this one was done by a student. Which makes it the more pleasurable to publish it at StadiumDB.com.
Grudziądz is a little-known city in northern Poland, with population bordering 100,000. In recent years local football club Olimpia has been performing better than many would have ever expected. The club gained promotion and is currently a solid member of the 2nd flight, I Liga.
Their existing stadium is seriously outdated and has seen only temporary improvements, like the charming wooden roof. Recently the club itself (which isn't common in Poland, quite the contrary) bought floodlight masts to meet league requirements. However there is no existing plan of a complete overhaul of the ground.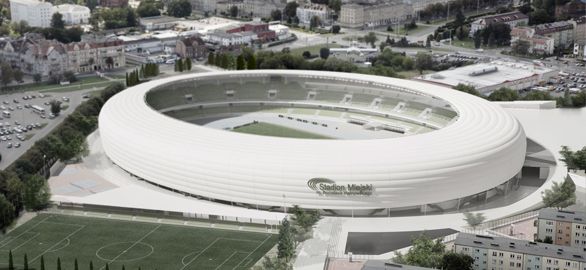 Image: Mateusz Prusakowski
Or there wasn't, because one architecture student, Mateusz Prusakowski, has just released his idea. The concept envisages completely new stands being built in the place of current stadium in Grudziądz. The elliptic layout forms a compromise between two most important uses of the stadium.

Image: Mateusz Prusakowski
On one hand it's a football stadium for the growing club Olimpia, meeting UEFA's criteria for II Category stadiums. Olimpia hasn't been enjoying crowds matching the 16,700 capacity, but then again it's very rare for any club in Poland to sell out, mostly building upon a 50%+ ratio.
On the other hand it's an athletic stadium able to hold national events, which were quite numerous in the history of Grudziądz. Between 1982 and 2003 the city held annual memorials of Bronisław Malinowski, the stadium's patron, honouring the 1980 Olympics golden medalist from Grudziądz.

Image: Mateusz Prusakowski
Just like the layout, the capacity of 16,700 is thought to match demand of a city like Grudziądz for entertainment events that can also be held here. The project includes surrounding infrastructure, warm-up facilities with a full-sized side pitch (equipped with a stand itself).
The vision was created by Mateusz Prusakowski as a master's degree thesis at University of Gdansk Architecture Department.