Naples: New stadium for Napoli, details expected soon
source: ilmattino.it; author: michał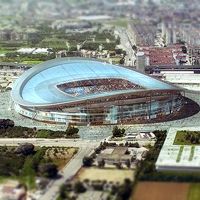 All indications say that Bapoli will leave the place they called home for over half a century, Stadio San Paolo. The club needs a more sensible ground and the municipality suggests they've been working on the plan for some time already.
When Italy contemplated their bids to host Euro 2012 and 2016 the plan was to include Stadio San Paolo in a much refurbished form. But just like both tournaments in Italy, that plan isn't likely to happen. More probable is the abandonment of San Paolo by Napoli who played here for over 50 years.
The club rarely makes full use of the too big athletic stadium that also offers very limited commercial potential. A new and football-only stadium for up to 60,000 people is now being considered in another part of Naples.
The information was shared during this week's sport awards ceremony by both club and municipality officials. Not only the plan is being pursued, but we should also expect details soon. "I hope that formal details will be available within days of what the city's doing for the project", mayor Luigi de Magistris said.
The official assured there's will to make it happen regardless of the new stadium legislation that should ease private investors in building stadiums.
"I hope it gives impetus to the project. However, we're determined to close a deal regardless of the law, because there's a strong will to bind the city and the club further and build the stadium. When both the club and municipality want it, there's a lot that can be done", de Magistris said.