London: Olympic Stadium's sightlines and atmosphere criticised again
source: DailyMail.co.uk / Skyscrapercity.com; author: michał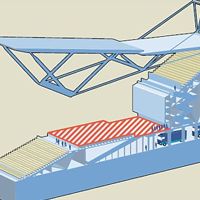 It's been the subject of ongoing disputes for a couple of years already, but now Daily Mail show another issue to complain about. Retractable seats at the 'football-mode' Olympic Stadium will hardly be as great as showed by West Ham United.
Ever since the initial legacy plan failed and a football team was suggested to take over the London Olympic Stadium, controversy has been growing over how well the stadium can be transformed to a football layout. Stands are very far from the pitch and so retractable lower tier is now being worked on.
However, the plan still raises questions as to sightlines and atmosphere that may be created inside the barely inclined, flat stands. Even with retractable seating the end stands will begin far behind goal-line and while the below rendering shows how the lower tier may look, it doesn't show another thing: the distance of upper tier spectators at both ends.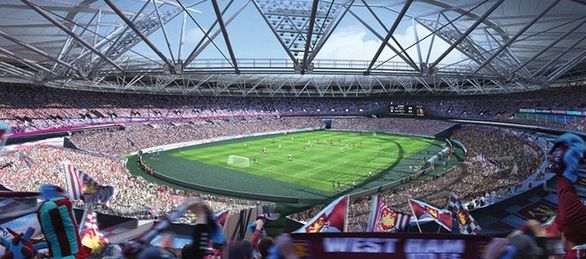 West Ham has been accused numerous times of manipulating the renderings to suggest the stands will bot be as bad as many fans fear. In the rendering above it's again scarves and hats covering what became a controversial point. As the lower tier of stands moves towards the pitch, a large platform of 15-20 meters is created behind it, as seen in this official cross-section. Meanwhile, the rendering seems to suggest the seating will be a rather continuous bowl, without a gap that massive.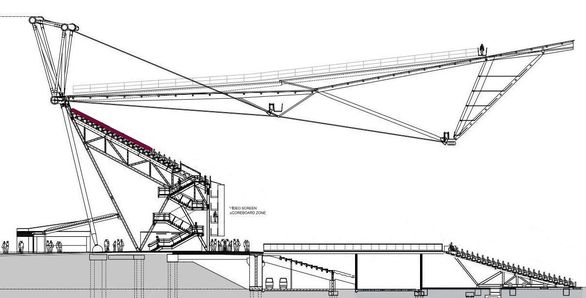 Worth mentioning, the final design of the football-mode layout is still to be released, but the cross-section shows what Populous architects came up so far.
An attempt of improving the situation with a Kop-alike temporary single tier has been suggested over half a year ago by RMB2007, one of Skyscrapercity.com users. It doesn't seem feasible to build and dismantle between games and athletics events, but does address the issue of poor upper tier sightlines.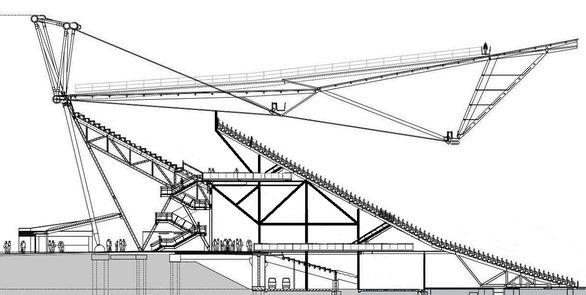 Idea: RMB2007
While some fans fear of the poor views and atmosphere, others presented humorous ideas that we find highly amusing. Of course not realistic at all, but showing that the amount of room created will be vast: