London: Lionel Road Stadium approved
source: BBC.co.uk; author: michał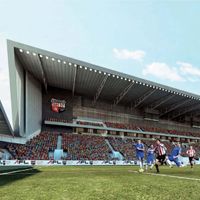 Despite concerns raised across the community, Brentford FC's new stadium is now approved by the local council planners. One of England's most original stadiums should be built as predicted, in mid-2016.
Submitted in June, the 200-page documents regarding Lionel Road site plan were reviewed carefully. There were even three resignations of council officers as two of them live nearby and the third is a BFC fan, all of which was seen as a threat to their impartial judgement.
The plans were subject to some concerns, most notably about insufficient public transportation in regard to the 910 apartments that are planned around the stadium. Fitted tightly into the plot, tall residential buildings were seen as a possible interruption of the district's skyline and some of them had to have their height reduced.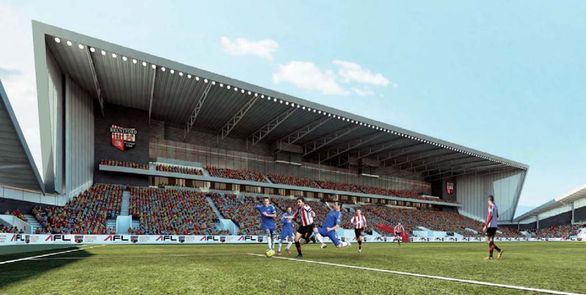 With alterations in place the stadium now received green light from Hounslow Council. It will still need to go through the mayor's office and governmental review before being granted full go-ahead, but that is expected to go smoothly.
Brentford, who have played their home games at the 12,763-capacity Griffin Park since 1904, had an average league attendance of 6,302 last season. The club claim it's been losing £5m a year at its current site and was told the site on Lionel Road was the best site for a stadium in the borough.