Johannesburg: Four stadiums to hold Mandela's memorial service
source: news24.com / SBS; author: michał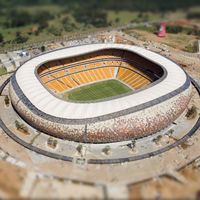 FNB Stadium may be Africa's largest, but it's not big enough. Nelson Mandela's memorial service will be broadcast live at three other venues to avoid safety concerns at the main ground.
FNB Stadium lies between Johannesburg and Soweto, symbolically connecting them like Nelson Mandela did, becoming the first fully democratic president of South Africa. The stadium is also Africa's largest and it was the natural selection for Tuesday's national memorial service.
However, Nelson Mandela's role in the country's history outgrows the 90,000 capacity and authorities decided to organise public viewing at three more stadiums: Ellis Park, Orlando Stadium and Dobsonville Stadium. Entry to each will be free and based on the "first come, first served" rule.
"Government has arranged for free public transport and park-and-rides to accommodate mourners, and ensure that they are able to get to the stadiums on time," - special statement issued on Sunday reads.
Complete capacity of the four stadiums exceeds 200,000 people, but all are likely to be filled. Those who won't make it inside to bid farewell to Madiba will have a chance in the following days, too.
Mandela's body will lie in state for three days from Wednesday, with the coffin taken in a cortege through the streets of Pretoria each morning. Preparations are also well underway for the final farewell for the 95-year-old legend, who will be buried on December 15 in his boyhood home of Qunu.