Emirates: Al Ain gem ready for opening
source: StadiumDB.com; author: michał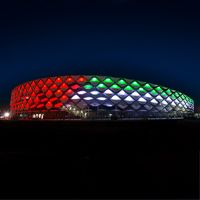 The contractor announced work is now complete on the new best stadium in United Arab Emirates. January will see a three-day family festival to celebrate the development.
Planning took years, but when it came to construction, local authorities were very strict: German contractor BAM was given 16 months to erect Hazza bin Zayed Stadium. With the impressive budget of €145 million ($200m), the stadium is a rather expensive one, but seems worth the price.
Capacity of 25,000 seats puts the cost at almost €6,000 per seat, one of the world's highest. However, the focus was on quality, not quantity. There are 3,000 luxurious chairs, skyboxes and lounges, while even regular seats have a surprising layout, being spread over three tiers along the pitch, like almost no other stadium of that size. Each ticket, whether most expensive or cheapest, is to give the viewer a great, unobstructed view and bring him as close to the field as possible.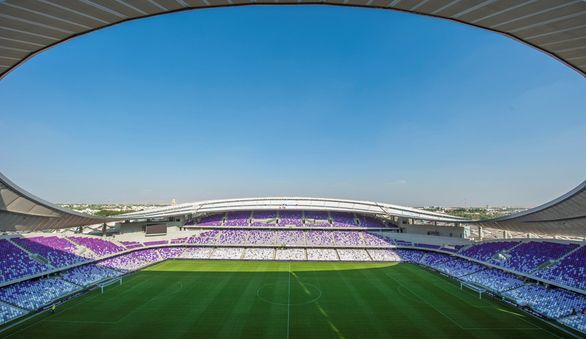 The roof bends and gives a dune-alike impression. It won't be much of a protection from rain, but why bother with rain, when there's hardly any rainfall? It's primarily designed to give shade and that should be fulfilled easily.
Facades are covered with 600 panels, resembling scales. Each is illuminated and each can change its angle, enclosing the façade or opening it like window blinds. For the local club games it should glow in purple-gold colours, for national games the lighting is to resemble the national flag of UAE, as seen below.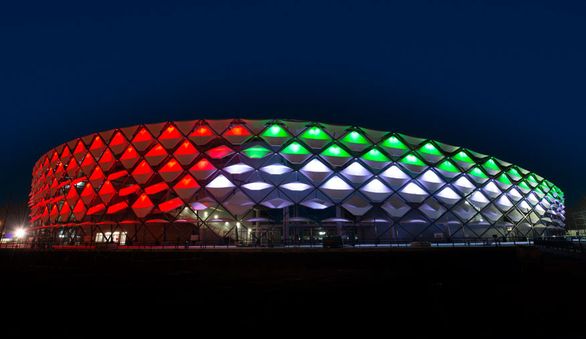 BAM had 16 months initially and opening was planned for December, but in the end delivery took 17 months, a still impressive time frame! The opening has thus been scheduled for January 2014 and may be surprising to some.
There's no concert or exhibition match contracted, but a three-day free festival for families (January 16-18). The focus is on encouraging youth and children to take up sports and so dozens of various disciplines will be presented, including extreme sports to draw more people inside.
The plan seems very reasonable as Hazza bin Zayed Stadium will be integrated into an extensive multi-use complex that should provide top quality conditions for sportsmanship in many disciplines.