Curitiba: Final phases for Arena da Baixada
source: Copa2014.gov.br; author: michał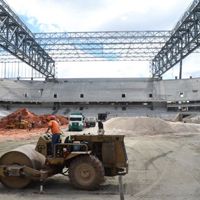 At the same time several key elements are being delivered and in January the stadium will look finished. Over 90% of the structure and its facilities are done. Now it's time for the football field and seats.
Arena da Baixada is one of the stadiums most criticised by FIFA. The project organisation was called "a mess" in recent weeks. The ground should have been ready by the end of the year, but that deadline will be exceeded by at least two months.
That should, however, still give organisers enough time to host test-events ahead of the World Cup in June. Similar delays were seen at Poland's Stadion Narodowy and the ground was found eligible to hold Euro 2012 opening.

By the end of November construction progress in Curitiba reached 88% and is now past the 90%-mark. Even if it doesn't look like that without the roof, seats and the football field, these shouldn't be problematic. Each of these phases is being worked on at this very moment. First stand already received seats and drainage is being laid for grass to grow on the pitch.
The roof is also subject to constant work, though it will not be delivered in the initially planned form, with retractable part over the football field. That system should be installed after the World Cup ends.