Brussels: King Baudouin Stadium to be demolished in 2020?
source: Zita.be; author: michał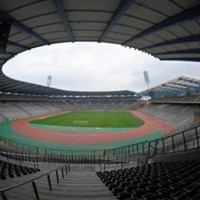 In 2020 the very last Van Damme Memorial athletic tournament is to be held at the Heysel stadium in Brussels. Later athletes will have to move as a football-specific stadium will take over.
During today's special conference authorities informed about progress considering the new national stadium. It was confirmed an agreement has been reached by various stakeholders and three working groups will now work on different aspects of the project.
First group is to find a replacement venue for athletic events when King Baudouin Stadium is demolished. That should follow the 2020 Van Damme Memorial, because the existing stadium that once replaced Heysel is to be demolished for multi-use development.
New 50,000-capacity football-specific stadium (60,000 for concerts) will be built across the road, on the vast northern parking site. Its communication and urbanism will be the task of another working group, while the third one will prepare its bid for Euro 2020. The bid is to be filed in April 2014.
All working groups are to consist of public authorities, football bodies (including the national association and RSC Anderlecht) and private partners. The latter will play a crucial role as the stadium is to be funded by them alone, totalling at estimated €314 million ($425.5 million).