Brasilia: Spectators wet as Estadio Nacional's roof leaks
source: Reuters.com; author: michał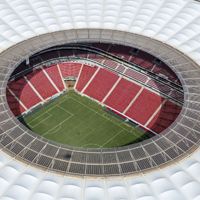 Last week's women's game had only the lower tier of seating opened. That lower tier was left wet after rain poured on the stadium. Leaks in the cover are now to be removed by general contractors.
Local media in Brasilia brought the spotlight to last week's game of Brazil and Chile female national teams. The game had a very limited ticket demand of roughly several thousand and so only the lower ring of seating was opened.
Ironically, that ring suffered from rainfall as leaks in roof brought water right on the spectators and stands. The irony is that Estadio Nacional has one of the world's largest roofs that covers stands better than in many other modern venues.
The investor, public agency Secopa, admitted there is a problem, but assured it's a minor one that's hard to avoid at a project of such size. "Because it is a new, grandiose and complex stadium, some small points are still being corrected and tested but there is nothing that compromises the running of the stadium or the holding of events there," Secopa said in a statement.
Controversy over this quite common error at newly opened stadiums is big because this ground has a price tag of $510 million (€372m).