Bilbao: Athletic's stadium deal under investigation
source: Independent.co.uk; author: michał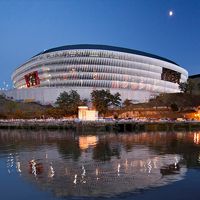 The European Comission is investigating whether the new San Mames stadium wasn't built with illegal public support. Should that be confirmed, the beneficiary may be forced to return the received funds. Report by The Independent.
British The Independent reports of a series of cases regarding Spanish football clubs. Cases brought to the European Commission go as far back as to 1990s, when some clubs were allowed not to change their legal status. Two cases are analysed regarding Real Madrid's potential benefits, like the club's status of not-for-profit organisation.
However, to us the most important issue is whether the new San Mames was built with justified public support. This case is a new one, opened in August and The Independent gives even its number: SA.37199.
Why should that matter? Because the EC competition commissioner, Joaquin Almunia, suggested at a press briefing in Brussels that no such case is underway.

Photo: Christian Córdoba
Earlier in the briefing he said: "We in Bilbao are very proud of it [the new stadium] but if there were some case of state aid then we would look at it. Despite the fact I like football and despite the fact I support Bilbao."
It is unclear why the commissioner, who is due to stay in office until the end of October, was not aware of the San Mames investigation.
This week, Almunia was criticised by the European ombudsman, an independent adjudicator with some power over the European institutions, for giving the appearance of a "conflict of interest" over his allegiance to Bilbao.
More than half of the new San Mames cost was covered with public funding, totaling at €111 million ($152m). Provincial and regional authorities each invested € 50 million, while the Bilbao municipality gave the remaining €11 million.
Asked what sporting sanctions might be taken against the clubs if they were found guilty, Almunia said: "I'm not [Michel] Platini. I don't know what Uefa should or shouldn't do. State-aid control is about the use of public money. When we consider that public support is not compliant the consequence of our decision is… to recover the money from the beneficiary."