Belgium: Unusual plans by Club and Cercle Brugge
source: StadiumDB.com; author: michał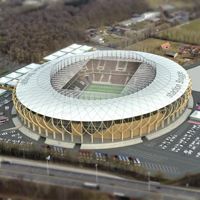 You may have heard about two clubs building/using one stadium as a compromise. But have you seen a plan in which two clubs want to build two separate stadiums next to each-other and still do it together?
Sharing a stadium is something that very rarely makes sense business-wise. Liverpool and Everton dismissed attempts to get them in a groundshare scheme, while Inter/Milan, Roma/Lazio and Bayern/TSV partnerships are nowhere near a compromise with 5 of the 6 clubs planning to leave the deal as soon as possible. In fact, groundshares that work reasonably well are very few, like the Jets/Giants partnership at MetLife Stadium.
Still, this is the very first time we hear of a partnership between two derby rivals in which both clubs want to build two stadiums in one project. Club Brugge and Cercle Brugge have teamed up and want to deliver a large sports complex in northern Bruges, along the Blankenbergse Steenweg. The idea already won full support of the city council that has just been announced.
Each of the two clubs has completely different needs, which would make sharing one stadium practically impossible. It would either have to be too small for Club Brugge or too large for Cercle. Or, frankly, it would have to be both.
Club Brugge has been selling out most games for years with ticket demand often much outgrowing the Jan Breydel Stadion. That's why the team hopes for a 44,000-capacity football specific stadium. At the same time Cercle is usually struggling to go beyond 10,000, but still enjoying their share of popularity. With that in mind the club would prefer a 12,000 capacity stadium.
One thing both teams would have to share in this scheme is the 6,000-car parking lot. Business-wise the deal makes sense as the larger stadium would be used for football games and occasionally for large entertainment events. Meanwhile the smaller stadium would be multi-use, perhaps with a retractable roof, addressing demand for smaller and more differentiated events.
Financing of the scheme isn't clear at this point, but StadiumDB.com understands a strong developer would be found as it happens in Belgium and the Netherlands. Also, Club Brugge would sell their current Jan Breydel Stadion with 12 training pitches to the city that is willing to buy it for residential use.