Be merry this Christmas!
source: StadiumDB.com; author: StadiumDB.com team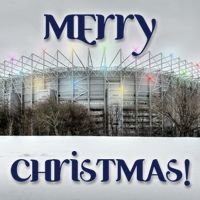 It's a scientific fact, that Christmas isn't only a time of joy for Christians. So even if you don't share the faith, we hope you'll have a lot to be merry about this Christmas!
In a few days we'll be writing about stadiums and stadiums only, again. But for now let us just say: what the hell (probably not the best terminology) are you doing here?! Find someone to share a smile with, contact your family and let them know how much they mean to you.
Please accept our best wishes for Christmas: don't let every-day problems get you down, don't allow sadness into your heart, but do cherish every moment of joy you're given. Simply: enjoy Christmas time and see you again in a couple of days!