Warsaw: 2014 FIVB World Championship opening at Stadion Narodowy
source: TVNWarszawa.pl / Sport.pl / WP.pl / PilkaNozna.pl; author: michał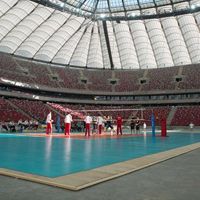 Well over 50,000 people should see the opening game of next year's World Championship as only details remain to be discussed between Polish Volleyball Association and Stadion Narodowy managers. Another game at the stadium is also possible.
All indications say that Poland's largest stadium will be the site of FIVB World Championship on September 3, 2014. This idea was brought up already in 2012 and subject to discussions as initially no football stadium was taken into account with Poland building several new indoor arenas.
Official statements are calm and suggest it's not decided yet. "Some aspects still need to be specified, formalities and technicalities. We have the will, but need to agree with our partners", said Janusz Uznański, press spokesman of PZPS, Polish Volleyball Association.
Stadion Narodowy operator is also keen to stress that there's will, but no contract has been signed so far. "We're also hoping to organize this event. Negotiations hang on financial and technical terms", says Mikołaj Piotrowski, PL.2012+ press officer.
But while press spokesmen avoid explicit confirmations, vice-president of PZPS is more frank with journalists. I can confirm this one game [opening] at this point. By the end of the week we should know whether a second game at Stadion Narodowy is possible", says Artur Popko.
Popko's statement served as valid confirmation to major Polish media today with some journalists also claiming that agreement is almost ready and the opening game of next year's tournament should be available for up to 60,000 people, maybe even more, depending on seating layout applied.
The tournament will be held in Poland for the first time, between Sept 3 and 21, 2014. Indoor arenas were either built or renovated in Katowice, Łódź, Kraków, Wrocław, Bydgoszcz and Sopot. Warsaw is known not to have any large hall able to accommodate such events, thus the concept of holding opening at Stadion Narodowy, not to exclude the capital.