Stockholm: Friends Arena below expectations, huge loss in first year
source: SVD.se / sverigesradio.se / StadiumDB.com; author: michał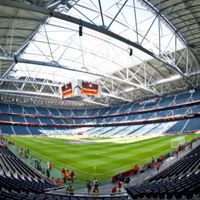 It's not even in operation for a full year yet, but already now the deficit for 2013 is expected to be at over $30 million. Almost all shareholders announce or consider selling their shares, some already doing it. What's the future for Sweden's new national stadium?
Friends Arena is to celebrate its first year in operation on November 14. But despite the stadium being innovative and able to hold almost any event, the mood is far from optimistic. Retractable roof, telescopic north stand, air-conditioning, emphasis on ergonomics and economical viability – all this didn't make the stadium loss-proof.
On one hand it's always difficult to operate a stadium in its first years, especially when it's something that wasn't done before, at least in some aspects. Then there's the surrounding area which is still a construction site of future Mall of Scandinavia, largest shopping centre in the region. But then on the other hand that was taken into account and losses still exceed expectations. First year in operation may end with a large SEK 200 million deficit ($30.6m / €23m).
The stadium was built for nearly SEK 2 billion, covered by five strong stakeholders. Largest one is the Swedish Football Association, SvFF, which has 33.3% of the shares. Then come three developers: Fabege (22.8%), Peab (17.2%) and Jernhusen (10%). And finally the municipality of Solna holding 16.7% of the stadium managing company.
Football Association lost most?
The stadium is full for national team games, has a wide offer of non-sporting events and yet many claim the SvFF is the one to lose most. Why?
The football union sold their previous national stadium Rasunda for SEK 300 million and put the money into the new development, becoming the dominating shareholder. Such conditions are unfavorable according to Håkan Thorsell, assistant professor at Stockholm's School of Economics. He believes the SvFF has no interest in being a major player and recovering the funds submitted will be hardly ever possible.
Thorsell emphasizes that SvFF has no connected benefits apart from the use of Friends Arena itself, while all other partners in the project gained more than just the stadium despite smaller input.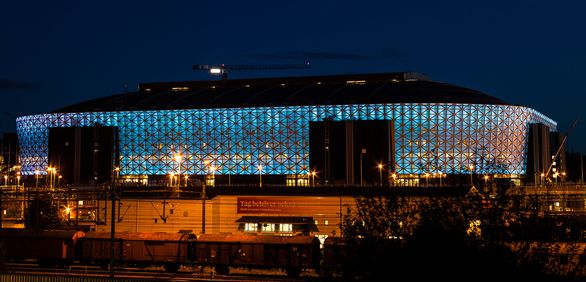 Photo: Håkan Dahlström
Lars-Åke Lagrell, SvFF president at the time of engaging in the project, sees things differently. According to him the association has gained more than just a new stadium. It provides a lot more than the previous one, which should not be forgotten. "We were able to play Argentina in February and Portugal in November (when Rasunda would have been impossible to use). Every game is watched by additional 18,000 people and to add to that we can now bid for the Euro 2020 games", Lagrell argues.
However, regional associations of the SvFF are strongly suggesting to abandon the stadium's ownership and remain only a tenant there to drop the burden. "Within five years we should leave the project completely, definately", Robert Lindstrom suggests, head of the Norrbotten regional association. SvFF already sold a small portion of its shares, but remains the largest shareholder.
Developers have other profits
The three developer companies partnering SvFF didn't only get the stadium. As Håkan Thorsell indicates, their benefits include exclusive rights to surrounding commercial developments, not only being part of Friends Arena. This makes both Peab and Fabege's position a lot stronger. Jernhusen in turn was able to get rid of surplus land that was unused beforehand and now is a blooming commercial district near the railway hub.
But despite the listed benefits all three developers are set to leave the management of Friends Arena or decrease their shares significantly. Jernhusen already sold part of their shares and assure further sale is planned. "It's not clear when exactly, but in the future we plan to sell all shares in the stadium", claims Cecilia Granath, Jernhusen spokeswoman.
Municipality leaves as well
Crucial partner during construction is now also set to drop engagement in Friends Arena. It would be unfair to say that Solna Municipality is losing money because of the stadium with its potential to draw people from all over Sweden and beyond. Not even mentioning all the developments surrounding the stadium: hotel, conference centre and Mall of Scandinavia.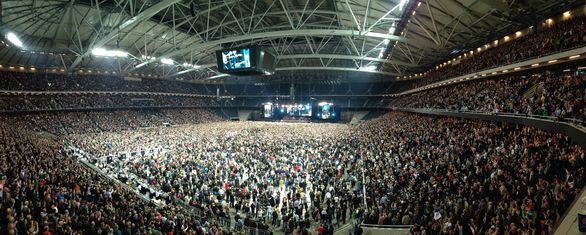 Photo: Niklas Hellerstedt
Still, Solna's interest in co-running the stadium is almost non-existent. "We're preparing for the next phase. That is, to withdraw from the project", says mayor Pehr Gran Falk.
No the end of the world
The strong tendency to abandon Friends Arena by almost all shareholders must sound disturbing, especially in connection to the financial results.
But it doesn't have to be a worst-case scenario at all. The changes may come from varying interests of all partners. Developers already achieved the aims they were targeting, it's time to move on for them.
It's similar with the municipality which was determined to bring the huge commercial project and boost local economy. But it's hard to expect that Solna will become an active partner in running it, especially with many citizens criticising the engagement and naming social issues as priority over business.
Of course operating Friends Arena will be challenging, large stadiums across Europe are a challenge in general. And there is no waiting list of companies ready to take over and buy shares, but perspective isn't all that bad: the stadium should break even in 2015 and should be able to attract investors.
Especially that the anchor tenant of Friends Arena is happy with it. AIK Solna isn't paying much, but sees a stable increase in matchday attendance and budget. Growth of AIK also sounds like a chance to improve the stadium's image and – eventually – finances as the club holds some 20 events per year here in Solna.