Qatar: Zaha Hadid outraged by vaginal associations
source: StadiumDB.com / Time.com; author: michał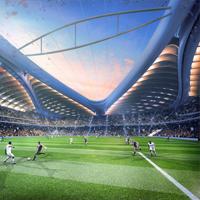 It's been just a week since the first final concept for 2022 World Cup was presented and already we have a scandal around it. The Al Wakrah concept went viral with people seeing a vagina in it. What started as a joke became a feminist/equality manifesto, according to some. The architect behind the "vagina" is outraged by people reading into things that aren't there.
We were one of the very first websites outside the Arab media to present the new Al Wakrah Stadium design, one of the first final designs for the 2022 World Cup. But it never crossed our minds to compare it to a vagina. Instead we saw what Zaha Hadid tens to show: organic and futuristic stadium design, maybe even too similar to her other works.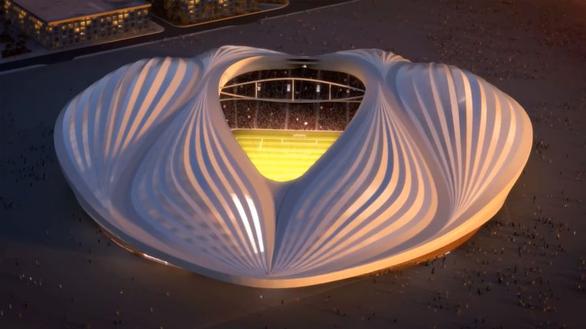 After two days the Internet was literally flooded with articles comparing the stadium to a vagina, from USA to Indonesia. It went viral almost instantly with the entertaining message shared by thousands through social media.
However, what started out as a joke soon earned itself very serious interpretations: that it's an attempt to smuggle some sexual content to the conservative Islamic emirate of Qatar (Washington Post), that it's a feminist manifesto from the first female architect awarded with Pritzker prize, that it's the starting point to discuss sexual equality in sports (The Guardian).
"In a world where sport and vaginas very rarely come together with such prominence (see every UK female footballer's salary versus every UK male footballer's salary), this can only be a good thing", wrote Holly Bacter, The Guardian's columnist. And her comment was shared 37,000 times on facebook, which doesn't happen that often.
And so we're one week after the first release of design renderings and Zaha Hadid finally spoke out, furious about people reading into things that aren't there. "It's really embarrassing that they come up with nonsense like this," Hadid tells TIME exclusively. "What are they saying? Everything with a hole in it is a vagina? That's ridiculous."
The curved, open roof is meant to evoke the the sail of the dhow, a traditional fishing boat common in Qatar. "Honestly, if a guy had done this project," she adds, critics would not be making such lewd comparisons.