New stadiums: Here comes Algeria!
source: StadiumDB.com; author: StadiumDB.com team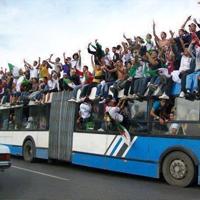 Yesterday they won themselves a spot in the World Cup for the fourth time in history. Now Algeria get their first four stadiums at StadiumDB.com. More to follow, we assure you!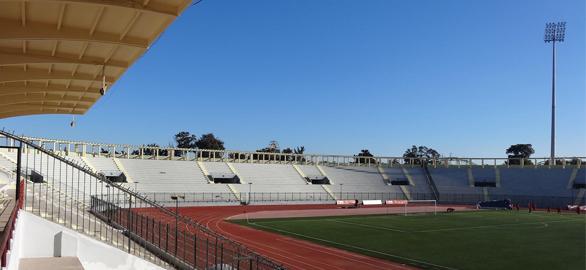 Photo: Groundhopping Merseburg
When it was built in 1950s, it received the name of then mayor Henri Foques-Duprac. The French patron was overthrown soon after as Algeria gained independence. Later the ground was called Stade 19 Juin 1965, commemorating coup d'etat, while now it bears the name of Ahmed Zabana, local revolutionist.
Though the names were changing, the stadium remains almost as it was in 1950s. Its most distinctive feature is the shape: when seen from above it resembles the letter D, having two rounded curves and two corners. The corners (west) were used to accommodate floodlight masts (inside the bowl, obstructing view), while on the opposite side masts were located outside the bowl. This hasn't changed until 2008, when new masts were built, all outside the stadium. It was the largest change to date, although stands were refurbished as well.
They never received seats, though, which leaves capacity as it used to be in the beginning, around 40,000. That doesn't mean that larger crowds weren't seen here, like in the exhibition game of Algeria and Brazil in 1965, seen by 60,000 people.
The stadium hosted many festive games with domestic finals or friendlies, like the opening game, when Real Madrid were formally hosts.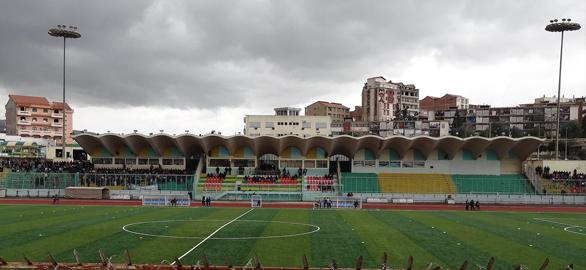 Photo: Groundhopping Merseburg
Named to celebrate the onset of Algerian Revolution, the largest stadium in the mountain city of Tizi-Ouzu wasn't built as early as the name might suggest, it opened its doors for the first time in 1978. Stuck between the hills and dense architecture, the ground is part of a larger sports complex with indoor hall and minor pitches for other disciplines.
Although modernised in 2007 (with synthetic turf and repainting being major changes), it never became an all-seater, having only a modest number of seats in the honorary tribune. With the rest remaining terracing, capacity has been at 20,000 from the start.
The stadium's meaning is to decline largely in 2015, when a new 45,000-capacity stadium is to be opened outside the city.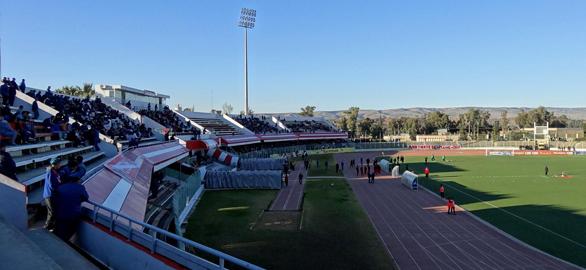 Photo: Groundhopping Merseburg
Largest stadium of northern city of Chlef was built in the western outskirts as part of a larger sports complex, including a secondary athletic stadium, tennis and basketball courts, an indoor arena and even a helipad.
The stadium is known for its distinctive main grandstand with several independent upper tier sections. It bares the name of Mohamed Boumezrag, famous player deceased in 1969, known from his games in Girondins Bordeaux, among other.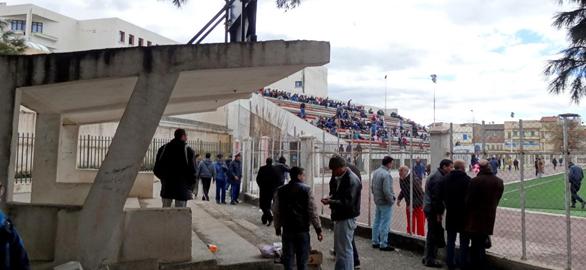 Photo: Groundhopping Merseburg
Most centrally located stadium in El Eulma used to be the city's main sports ground for years, but has been secondary ever since the new sports complex was opened east of the city limits. Currently it's used mostly by reserves of largest local club, MC El Eulma.