New design: Arena Regensburg
source: StadiumDB.com; author: StadiumDB.com team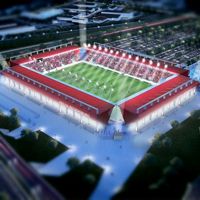 Already in February construction should start on central-Bavarian newest stadium, Arena Regensburg. Though designed for German SSV Jahn club, it's supposed to mimic the classic English stadiums.
This partnership is a well-known one. Architects of 'agn' office and developers BAM Sports have worked together previously on several stadiums, most notably those built after the 2006 World Cup in Germany, like Mainz or Aachen. This time their work will bring half smaller stadium to the 3rd league club SSV Jahn of Regensburg.
Building a new stadium for Jahn has been on the table for a few years, but it wasn't until September this year that contractor was finally selected and approved, seeing the planning application filed today.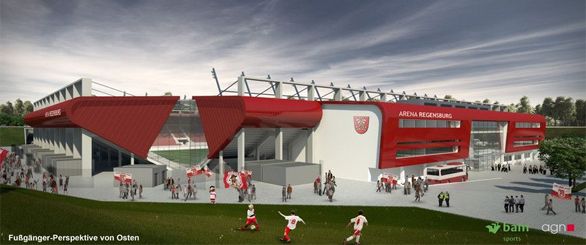 Should it be approved without problems, work may start in February with BAM moving to the site in southern outskirt of Oberisling already in January. From that moment the company will have 18 months exactly to deliver the stadium, suggesting late 2015 as opening date.
The design is thought to mimic classic English stadiums with four independent stands, each with distinctive red cover that also forms part of the façade cladding and is the stadium's most distinctive feature. Stands put close to the pitch are to have 21 rows on each side with no floodlight masts in corners to enable future expansion. Instead, there are to be 28 small masts atop the roof.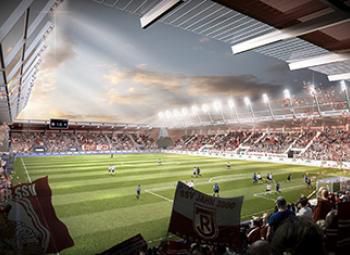 Capacity would initially be set at 15,000 with 18,000 maximum if the corners are filled eventually. Of that size 6,000 people will be standing, mostly (5,250) in the southern fanatic stand and also in the away section (750), north. Western main grandstand is to have 960 business seats with over 1,000 sqm of hospitality space behind it.
The stadium will easily be accessible from the city's southern bypass and will offer some 2,500 parking spaces. Overall cost was initially planned to stay below €30 million, but has grown to €52.7 million.