New design: Al-Wakrah Stadium
source: StadiumDB.com; author: StadiumDB.com team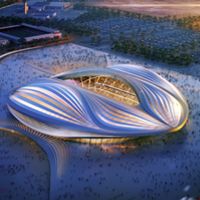 The long awaited design by AECOM and Zaha Hadid is now revealed and raising eyebrows. Futuristic, but with elements of traditional symbolism of Al-Wakrah, the southernmost city of 2022 World Cup.
Original and modern, though with a taste of Qatari traditions, the new stadium for Al-Wakrah is to become a landmark of the city 15km south of Doha, but also copy some of the place's maritime traditions. With roof shaped dynamically like a series of waves on the outside, its internal portion shows wooden support ribs that are to resemble the structure of traditional 'dhow' fishing boats.
This concept created by AECOM and Zaha Hadid over the last half a year is very much like other creations by the latter architect team. But despite Hadid' lack of experience in football stadiums, it's also believed to meet all expectations possible and provide a lasting and sustainable heritage for Al-Wakrah sports.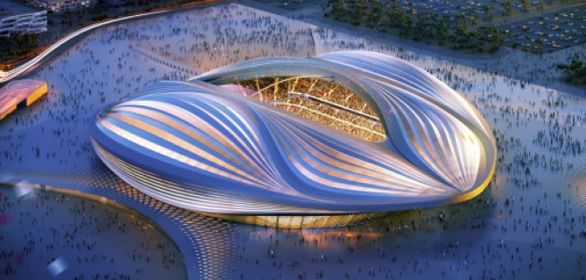 Under the roof supported mostly by two large arches spanning over 230 meters are double-tiered stands with net capacity of 40,000 (44,000-45,000 altogether). The entire upper ring will be demountable and once the 16 games of 2022 World Cup are played here, capacity will drop to just 20,000 without interfering with the stadium's shape, as seen below.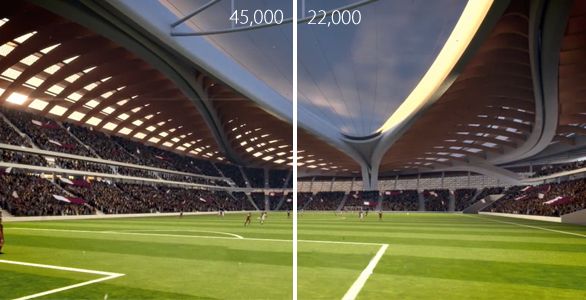 Under the stands 72,000 sqm of public space will be created with temperature not exceeding 30-32 degrees Celsius. Once fans reach their seats, it should get cooler with 24-28 degrees and at field level it should be a stable 26. Such conditions are the outcome of combining shade, aerodynamics and mechanical ventilation systems, though traditional air-conditioning would not be used throughout the stadium.
Such a solution would be a true waste of money and energy, while the stadium is to be sustainable and green to the extent possible. That's why 15% of the structure will come from recycled materials and once opened the stadium will be very efficient. It is envisaged that 15% of the required energy would be produced by the ground itself, while water use and waste production would be limited by 60% and 90% respectively, compared to traditional structures of this kind.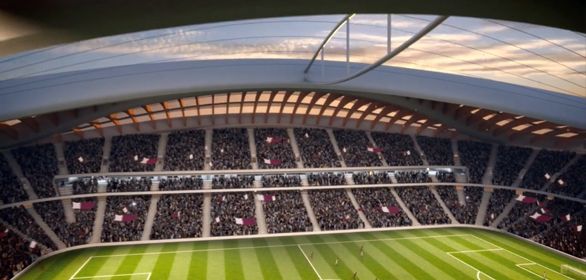 Around the stadium a vast 585,000 public space is planned with two training fields cooled to 26 degrees, two indoor halls, four tennis courts and two basketball pitches, among other sporting infrastructure. Also a 10,000 sqm retail complex and a four-star 150-room hotel are planned.
Construction should begin in Spring 2014, though tender for preparatory work is expected to begin no sooner than early 2014, which will make the timeframe very tight. Also delivery is expected soon, scheduled for late 2015.