New construction: FK Krasnodar Stadion
source: StadiumDB.com; author: StadiumDB.com team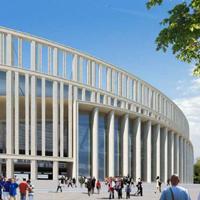 Foundations laid, cranes crowding around the oval bowl – now the Progress will be visible almost on a daily basis. Thanks to the support of New-Krasnodar.ru we will now be able to show you the construction photos, while our Russian partners will provide more materials for those interested in knowing the project better.
Already in 2011 the little known smaller (and much, much newer) club from Krasnodar hired the famous GMP Architekten team to design its new stadium. Privately owned, it is to be the second phase of club establishment in north-eastern Krasnodar after the club first opened world-class training centre and football school.
Initially there were even declarations that a retractable roof may be involved, but eventually that didn't happen.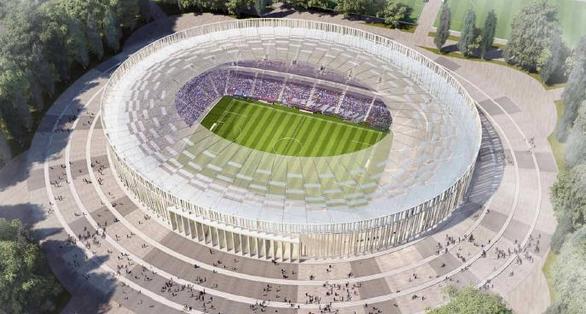 The 33,000-36,000 capacity stadium is to have a light roof with translucent sheets allowing sunlight onto the double-tiered stands. The external appearance is very simply yet elegant with stone colonnade making it an almost certain landmark of Krasnodar once finished.
Preparatory works began in late 2012 on the site just outside city borders (but still close to the centre due to Krasnodar's shape), while spring 2013 saw all cranes installed on site, surrounding the oval blueprint.
Currently work is progressing very fast, putting some 2018 World Cup stadiums to shame. Intriguingly, the stadium was to become a training venue of the tournament, but Krasnodar was removed from the host-city list by FIFA in a very unexpected move.
With the help of New-Krasnodar.ru we will now be bringing you fresh images of the stadium growing, while more current photos can be found in our partners' resources!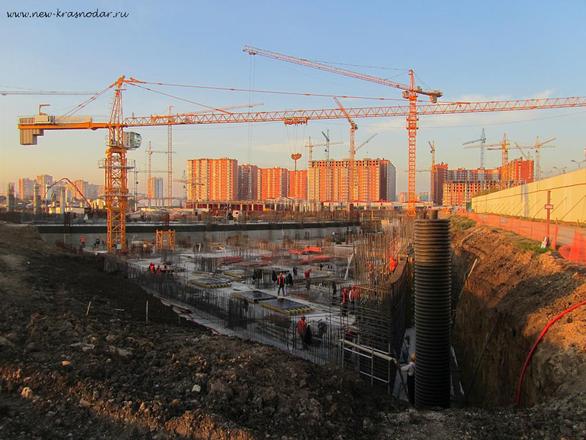 Photo: New-Krasnodar.ru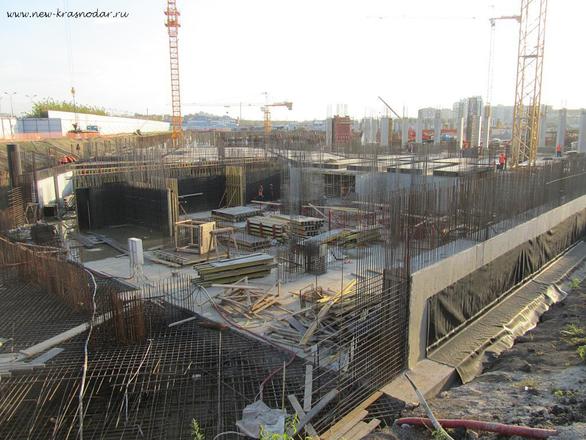 Photo: New-Krasnodar.ru