Munich: Allianz Arena with best internet access
source: invidis.de; author: michał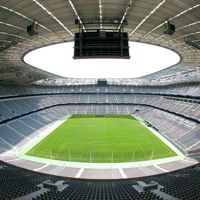 Thanks to Bayern's cooperation with Deutsche Telekom the club's stadium is expected to give unmatched internet access to fans. At the same time it's to open new advertising opportunities.
11,000 meters of cables, a ton of aluminium, 100 sqm for the system's room – all this is to be fitted into Allianz Arena soon as part of the stadium multimedia system's modernisation. Deutsche Telekom, the strategic sponsor of Bayern aims at making the stadium a global leader in new technologies.
Up to 50,000 spectators may simultaneously use high-speed LTE internet with no risk of overloading, according to the scheme. Bayern and Deutsche Telekom plan to provide special content for fans directly to their smartphones, also gaining new advertising channels.
Additionally the public address system is to be improved with several hundred HD screens around the stadium, allowing fans to watch additional content and allowing advertisers to reach viewers in almost every corner of Allianz Arena.