Manchester: Work begins on FC United stadium
source: manchestereveningnews.co.uk; author: michał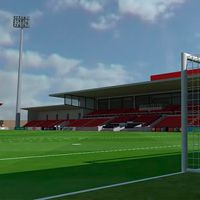 Thousands of fans from various clubs celebrate this historical moment. Even though it's only preparatory works now, they mark the occasion of first fan-established club building their own stadium.
About a week – this is how long preparations are scheduled for to make way for construction site entrance. Tree removal is under way in Moston, north Manchester, for the new Community Stadium for 5,000 people.
To assure that local community loses no public green with the removal of trees, FC United of Manchester announced that only dead or sick trees are to be removed, totalling at 10. Meanwhile, a lot more are to be planted once the project is done.
The club have also held a raffle as part of their fundraising for the £5m project. The winner will be the first to put a spade into the turf. No date has yet been set for that event.
FCUM hope their new ground will be ready by August, 2014.
The development gained unprecedented interest across England and beyond, because FC United are the first fan-established club to build their own stadium. Two more are hoping to join the Manchester side soon: AFC Wimbledon and Austria Salzburg.