Lyon: Cornerstone mounted at France's first private stadium
source: euronews.com / olweb.fr; author: michał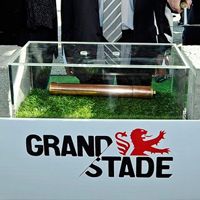 Yesterday saw the official groundbreaking ceremony at Stade des Lumieres. However work is well under way for months and needs to be carried out constantly to deliver the 61,000-capacity stadium in time for Euro 2016.
Tuesday afternoon the cornerstone was mounted into a brick wall on site of what will become Stade des Lumieres, one of France's largest stadiums. Not only huge, this will also be the very first such project covered with private funding.
Its budget stands at immense €405 million ($543m) and obtaining necessary financial guarantees took businessman Jean-Michel Aulas a lot of time, causing huge delays of the entire project, presented as "OL Land" back in 2008. Even though Aulas has been a renowned French entrepreneur and owner of Olympique for 25 years, the price proved higher than expected.
Lyon's Mayor Gérard Collomb was also present at the ceremony where Aulas told euronews that when the stadium is completed the club and its home would no longer be a burden on the taxpayer. The mayor was clearly happy with such outcome. "That's a new thing here because traditionally Stadia have been built and developed by public authorities. Europe is more and more against investing public money in such infrastructures", said Gérard Collomb.
Despite the official ceremony, construction remains at full speed to meet the deadline of very, very late 2015 or early 2016 for stadium delivery. While UEFA expects every stadium to be ready for test events half a year before Euro 2016, this stadium may breach this rule slightly, presumably without consequence, as it was in Poland and Ukraine in 2012.