Derby: New naming for 10 years
source: BBC.co.uk; author: michał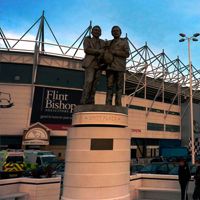 Derby County home will officially be renamed in less than a month, when Blackpool to to play away at Pride Park. Sorry, at iPro Stadium. The deal is longer than many throughout the Football League, spanning over 10 years.
Pride Park has been the name of Derby County's new stadium ever since it opened in 1997. This changes on December 7, when official rebranding is to take place ahead of the Blackpool game.
The contract with sports drink company will last until 2023, making it one of longer deals throughout the Football League. With Derby County's ambitions to join the Premier League, the extra £7m revenue should come as significant boost.
"Over the last 10 months we have talked about this with supporters extensively," said Chief executive Sam Rush. "We have done a lot of tours and generally people have been supportive.
"People will have their views but I hope fans will be supportive and understand why we have done it."