Cyprus: Limassol clubs to fight for shared stadium after Saturday's derby
source: incyprus.com.cy; author: michał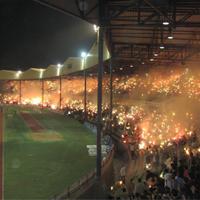 It's going to get hot tomorrow as Apollon take on AEL. Not only is it a derby, both are also among the best league sides. But on Monday they join forces together with third club Aris in a bid to finally replace the old stadium by a new one.
The Tsirion Stadium was built in 1975 and is long past its heyday. At the same time all three premier league clubs from Limassol are forced to play there with no alternative.
AEL, Aris and Apollon have appealed to authorities for a new stadium, even going as far as to claim the government neglects Limassol while building a new stadium in Nicosia, the GSP. As a result Apollon have to stage their European tournament games in Nicosia, over 80km from their original fanbase.
Tomorrow the outdated Tsirion is turning into a boiling pot as Apollon (1st) face AEL (4th) in their league derby, known to be among the hottest in Europe. But on Monday presidents of both clubs, joined by Aris chief are to meet in the morning and discuss options of funding a new ground for all three clubs.