Cleveland: Car dealership among fans? Big plans for Cleveland
source: StadiumDB.com; author: michał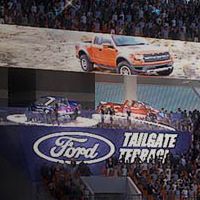 A joke? No, another original plan for an NFL stadium after proposed swimming pools for spectators in Jacksonville. This time it's Cleveland with its vision of "Tailgate Terrace" that will house cars instead of fans. A lot more is planned for FirstEnergy Stadium though.
We've already seen party decks, pubs and other leisure spots atop regular seating. Then we were treated to a swimming pool for Jacksonville's EverBank Stadium. And if anyone thought this was the most bizarre concept, here's another intriguing plan: removing seats to make way for cars.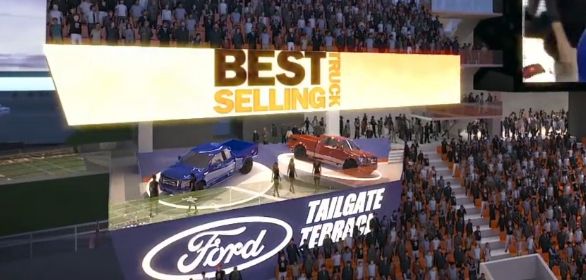 They called it "Tailgate Terrace" at Cleveland Browns as the NFL franchise released renderings of their latest scheme. The spot would accommodate two trucks and extensively visualise Ford's presence at FirstEnergy Stadium, allowing spectators to watch and potentially even order a car during the game. Similar plans were already introduced for stadium infrastructure, but never in the place of actual seats.
This plan is only a part of overall capacity reduction planned for the Cleveland Stadium, opened just 15 years ago. From 72,300 seats it's expected to go to 68,000. Most seats will be lost to make way for new giant screens, outgrowing current ones (considered large when the stadium first presented them) three times.
Then come new corporate and hospitality zones and the Tailgate Terrace with a total of 12 new escalators to get fans to the higher zones without making them sweat.
Entire plan is to be carried out in 2014 and 2015 and should cost 120 million (€90m). It's not certain yet how it should be financed. The NFL may supply the Browns with a $62.5m loan, but the remainder isn't secured so far. The franchise suggest public financing would be welcome, but no decision has been presented yet.
"We would not be respecting the mayor or City Council to answer that right this second," CEO Joe Banner said, adding the answer would be evident quickly and that the team would be transparent about its plans.