Champions League: Celtic forced to play in Edinburgh?
source: BBC.co.uk; author: michał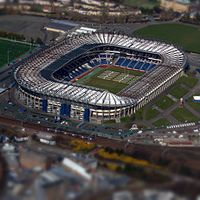 Should 'The Bhoys' win Scottish Premier League title, and any other scenario would be a surprise, they will fight for Champions League spot. But qualifying games coincide with 2014 Commonwealth Games to be held in Glasgow…
Celtic may have tied with Dundee United and be only 5 points ahead of other contenders, but anything other than them winning the Scottish Premier League would come as a surprise.
If they win as predicted, the club will advance to Champions League qualifiers, which coincide with 2014 Commonwealth Games, largest sports event ever to be held in Glasgow. All three 50,000+ stadiums (Celtic Park, Hampden Park and Ibrox) will be closed for the duration of the 2-week tournament and beyond.
Celtic has to find an alternative ground and BBC suggests the club would prefer to hold the home leg outside Scotland. Celtic's chief executive Peter Lawwell asked UEFA to give an opinion on presented options.
"It could be England or Ireland, the Aviva in Dublin or Croke Park or maybe even down south at a northern Premier League club. We have a big support in Dublin and the stadium was full when we played Liverpool in the summer there, so that would be great."
However, Champions League regulations state that transferring a game to another territory cannot come at club preference, it has to be prompted by safety or disciplinary causes. Should this be applied strictly, Celtic may be forced to use the country's largest stadium and national rugby ground, Murrayfield.
Decision is expected within the next few weeks as Celtic wait with contacting stadium operators until they get a reply from UEFA.