Buffalo: Fan falls onto another one, gets banned and may be prosecuted
source: ABC.go.com; author: michał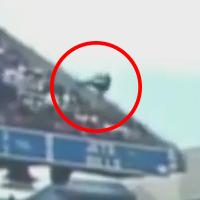 Hundreds of people in Buffalo held their breath for a moment on Sunday as they witnessed one man fall 10 meters down onto the head of another one. Both suffered no serious injuries. Now the one falling is banned from Ralph Wilson Stadium and may face charges.
The Sunday NFL fixture between Buffalo Bills and NY Jets saw a dramatic accident occur during TV timeout. A man was sliding down on railing as he lost balance and fell down from the upper tier of Ralph Wilson Stadium, plunging 10 meters (30 feet) down. The fall can be seen on video footage below:
The unfortunate fan landed on head and shoulders of another man, "bouncing off" of him according to eye-witnesses. Both stood up just seconds later, stunned by what happened. They were checked by paramedics inside the stadium and transferred to the nearest hospital for detailed examination. With no serious injuries, both were soon released.
The man who caused the breathtaking accident was immediately banned from Ralph Wilson Stadium indefinitely for breaching the code of conduct. He may also face charges as the local sheriff's office is running its investigation into the case.
Falls similar to this are the most common cause of death in American stadiums. Since 2003 almost 30 similar accidents happened, taking the lives of several people. Last fatal fall took place in September in San Francisco.