Borisov: Days until opening, will the stadium be ready?
source: Goals.by / Euroradio.by / batebs.blog.tut.by; author: michał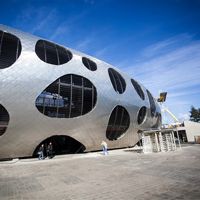 No, sorry, it won't. But we cannot leave it at that, as it would be unjust. Even if the stadium is to work with temporary solutions in place, it will be operable on November 8, when BATE is to celebrate their 8th domestic championship in a row.
Planned opening of the new BATE Borisov stadium was supposed to take place tomorrow. But with work not progressing as fast as possible it was postponed until Friday, Nov 8. That change gives contractors five more days in a race against time.
Worth noting, November 8 isn't just another fixture. BATE are to clash with Shakhtior Solgorsk, which means it's a clash of new domestic champions with the runners-up, who once again failed to beat BATE.
The Borisov-based club will thus celebrate its 8th consecutive Belarusian championship and 10th overall, making it a special night. As if that wasn't enough, president Aleksandr Lukashenka announced he will be there to mark the occasion.
Many elements of the stadium are already in place and just await to be used: floodlights and sound system are working, heated pitch is already green with drainage and irrigation also in operation.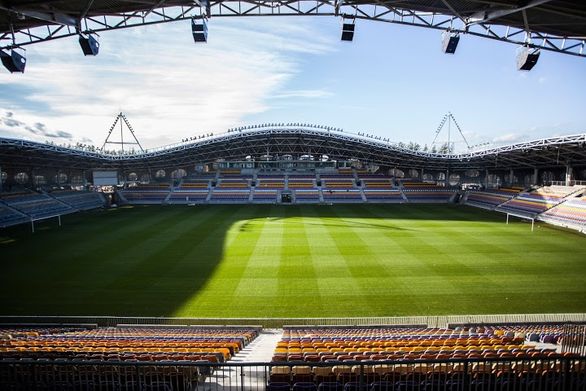 Fot: Nadezhda Buzhan, Goals.by
Vast majority of the interestingly-coloured seats are also in placed, most of them without the protective cellophane covers, just waiting for fans. The away section for Shakhtior fans is also secured and – what's not common for away sections – the tall fence surrounding it is located in a way that minimizes view obstruction to the away contingents.
Parking lots are also ready, hidden like small islands in the pine forest surrounding the stadium. Promenade around the stadium has lights and benches to make it more friendly, but the list of things that still need to be done is also very long.
For starters, works on the distinctive facades isn't done yet, just like last roof covering works. Then there's all the furnishings for toilets and catering shops, not mentioning the entire hospitality area that saw very few things done on October 31, when Goals.by toured the stadium.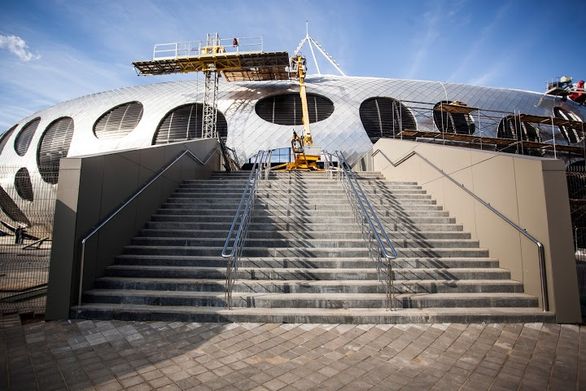 Fot: Nadezhda Buzhan, Goals.by
Skyboxes need a lot of work and business seats are yet to be installed. Just like one of two giant screens, work on which hasn't started before the weekend.
And even if all that is in place on November 8, there's still work to be done with integrating all systems that are to cater for access control and safety.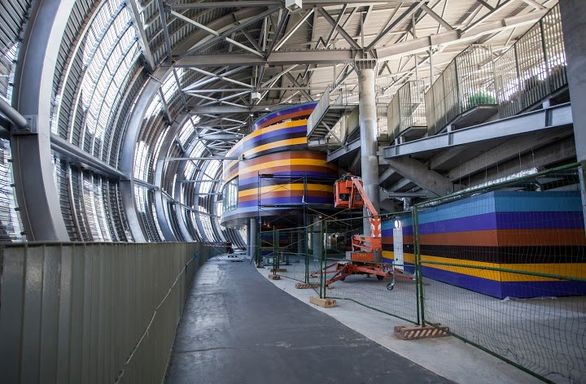 Fot: Nadezhda Buzhan, Goals.by
It's clear that some functions will have to be replaced by temporary solutions for the opening night, but fans filling the stadium shouldn't feel much discomfort with some work still remaining to be carried out.
BATE Borisov won't be the first and surely not the last club in Europe to move in while some (minor) work is yet to be done. Authorities felt that delivering the stadium in late 2013 as promised is superior to delivering it fully operable and with BATE's 10th championship celebrations in mind this sounds like the right way to go, even if finishing all works in time would have been best, obviously.