Tokyo: Olympic Stadium too expensive, what elements need to go?
source: JapanTimes.co.jp; author: michał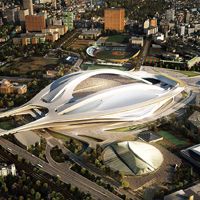 Sports Minister and head of 2020 Olympics Organizing Committee informed that the 80,000-capacity Olympic Stadium will have to be rethought to lower public expenses. However, its overall size might not fall too much.
Hakubun Shimomura confirmed today that the government is determined to deliver the selected concept by Zaha Hadid within the planned capacity of 80,000 seats, not less. However, some cuts are necessary as project budget has grown too much.
Initially thought to cost ¥130 billion (€970 million / $1.34 billion), now the stadium with surrounding infrastructure is estimated to cost some ¥300 billion (€2.2 billion / $3 billion). Should the price tag remain unchanged, it would be by far the most expensive stadium in world history, doubling today's giants from the USA that are yet to exceed $1.5 billion.
It's not clear at this point, what changes are to be implemented, but some of them are understood to change the exterior, possibly downscaling the futuristic ramps running through the stadium. However, it's not clear whether very expensive features like mobile stands and retractable roof would be retained.
Even before the budget inflation fears, numerous opinion leaders expressed doubts over the stadium's scale. Some 100 experts, many of whom are fellow architects of stadium designer Zaha Hadid, argued the venue is too imposing and should be rethought, possibly downscaled in some aspects to create a more friendly environment.
Zaha Hadid office has expressed willingness to talk about design changes. Construction is scheduled to begin next year.