Spain: New 32,000-capacity stadium for… Getafe?
source: Football-Espana.net; author: michał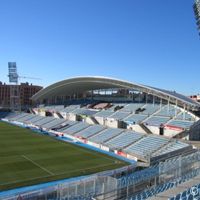 The news came unexpectedly, but it's not new for club president Angel Torres to give surprising statements. This time he wants to build the club a modern stadium that exceeds current attendances four times. And he swears it'll be selling out.
Majority shareholder and club president Angel Torres again raised some eyebrows, this time during a press conference presenting Ciprian Marica as newest player of Getafe. Torres took the occasion to announce plans of new football-specific stadium for his club.
"Before I leave, I want to make a bigger ground, one for 32,000 spectators and have it full. Mark my word. If I achieve this, and I am going to achieve it, the stadium will be full," said Torres last week.
This vision sounds very controversially when one takes a look at Getafe's attendances throughout previous seasons. Last year matchday average was at some 8,500, this season it's almost 1,000 people less every game. And consequently Getafe remains Primera División's very bottom in terms of average turnout.
Still, Torres claims it's the current stadium that's the problem: people don't feel the atmosphere there, there's no bond. The president names Espanyol as his inspiration, a club that left unfit large stadium to feel better at a more cosy, but also more atmospheric stadium.