Serbia: Partizan loses stadium battle in court
source: inSerbia.info; author: michał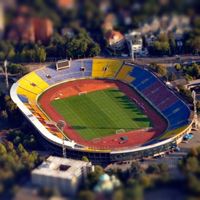 It's been almost two decades since the dispute over proper ownership of Stadion Partizan began. On tuesday Belgrade high court decided to agree with Ministry of Defence and denied the club rights to the ground. Partizan assure appeal will follow.
On Tuesday Belgrade High Court's website informed about resolving the case of Stadion Partizan in favour of plaintiffs, the Defence Ministry of Serbia.
Ownership of the stadium has been disputed since 1997. Partizan claimed to be the sole owner, while Defence Ministry argued the ground, earlier owned by Yugoslavian authorities, should be public property.
Current decision is only considered first instance and Partizan assures an appeal will be filed as soon as possible. Club lawyers haven't received the verdict yet.