Sao Paulo: Arena Corinthians 92% ready
source: Copa2014.gov.br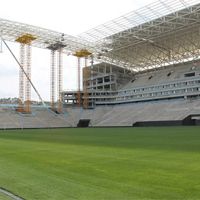 They were the last to begin works and had trouble acquiring funds. Yet Arena Corinthians is now 92% ready, showing impressive pace and seems safe to meet the December deadline.
There are only three roof segments waiting to be installed over northern and southern stands. All remaining steel trusses are in place and are being covered gradually. Also inside the stadium work is progressing very fast. Most corridors and facilities are ready for furnishings.
Currently the general contractor has 1,560 workers on site and estimates the work done to constitute 92% of the entire Arena Corinthians project.
Taking into account that this stadium was the very last to see groundbreaking among 2014 World Cup venues, this sounds impressive. Also with the financial difficulties private owners had, seeing lack of promised public contribution.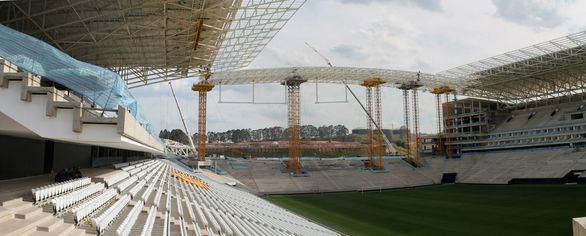 Photo: O Fiscal da Fiel
Current state allows one to already imagine games here and once the roof trusses are raised some 30 meters over the pitch in early November, it will see all major construction work done.
However, it's worth remembering that delivery within the FIFA deadline of December 2013 doesn't end the project at all. After the permanent structure is in place, work is to begin on temporary stands behind goals, planned to raise capacity and allow the stadium to host the opening game of the World Cup.