Saint Petersburg: Zenit Arena 45% done
source: rsport.ru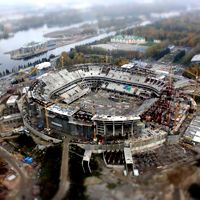 It's almost half-way there, though 'almost' has an ironic sound to it when we speak of a stadium under construction since 2006. Still, the general contractor presented detailed plans for upcoming months, suggesting prompt progress. Rsport.ru report.
General contractor of Zenit Arena, Transstroi, issued a press release with construction updates from Krestovskiy Ostrov, the island housing future 2018 World Cup semifinal venue.
The stadium is currently delivered in 45%, which seems very unsatisfying for a project under construction since late 2006. On the other hand, back in June the progress rate was just 35% and currently progress on site is much more visible than in previous years.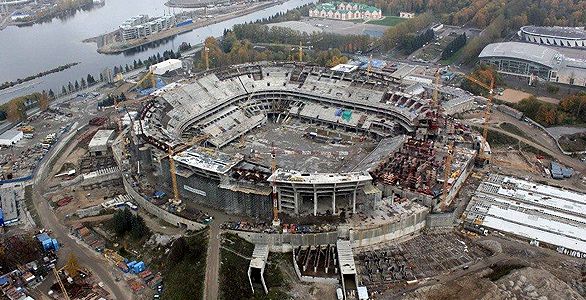 Photo: Xenia Shestakova
Plans for the near future are also quite detailed. By early November west stand should see prototype façade cladding elements, doors and windows installed. All are to illustrate the potential aesthetics of the future venue and selection of preferred materials is to be done by early 2014, when Transstroi should order them from a subcontractor. Should everything go as planned, all external cover elements should be installed in 2015.
The more serious concrete works will be done much earlier. Currently most sections of the stands are between 80-100% ready, excluding only the south end, under which the football field is to slide out. This is a more complex structure and has seen slowest progress so far.
But that shouldn't be a problem in 2014, when all of the immense concrete superstructure, one of the world's largest, is to be done. All of the stadium should be ready in 2016, providing no more delays happen.