New design: CSU Football Stadium
source: StadiumDB.com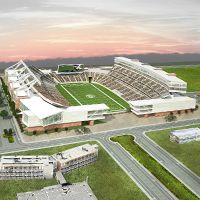 Can a stadium become remedy for financial problems of a university? Apparently yes, at least according to Colorado State University authorities, who envisage a new 40,000-seater vastly improving their position.
Well over a century of the Colorado State University isn't of much use nowadays, when financial reality is becoming more and more difficult. Public funding is being cut and the financial model needs to change.
This is why the idea of a new football stadium has been checked for viability. Begun in January, works on the project came to the stage when CSU could present renderings of the proposed stadium. Contrary to current Hughes Stadium it's to be based at the heart of CSU's campus, not outside Fort Collins.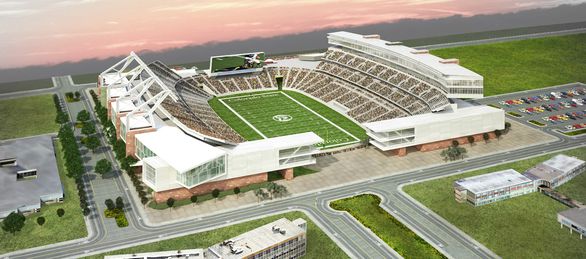 With this location in mind a wide variety of facilities has been planned inside the building by Populous, global leader in stadium design. But it's not the educational side that matters most, it's all about the commercial potential of the stadium.
With huge corporate zones in the upper tiers, the stadium is to boost finances not only of Rams, the football team, but of entire CSU. The dynamic stadium should also increase interest from out-of-state students willing to pay higher tuitions. The plan received its share of criticism as well, though. Some claim that building a 40,000-capacity stadium for a team that hardly sells out the current 32,500-size Hughes Stadium is reaching too high.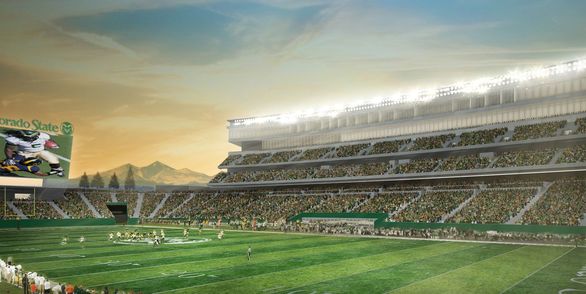 The size seems to be settled despite the doubts raised by some alumni and faculty as CSU is now preparing to raise funds in order to make the stadium happen. In order to go forward with construction, the university needs to get 50% of the required $246 million by October 2014. If this goal is reached, we will most likely see the stadium happen.