Minneapolis: New timeframe for Vikings Stadium revealed
source: cbslocal.com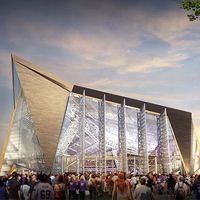 Worth almost $ 1 billion, the construction of Minneapolis Vikings new stadium is now set to begin in February 2014. Despite 6-month long delay, the schedule still sees the superstructure operational in the summer of 2016.
NFL team Vikings still have 5 home games to play this season, unless they advance to the play-offs. Then it's time to leave the 34-year-old Metrodome and settle across the river, at the academic TCF Bank Stadium for two seasons.
This winter demolition of the Metrodome is planned, but fans of implosions shouldn't get their hopes high, the process will be divided into phases, stripping the venue section by section.
First the pneumatic roof has to be deflated, seats and all systems uninstalled before they all go on sale for fans of the team.
Altogether the deconstruction should last until February 2014, when groundbreaking for the new stadium is to take place. That's 6 months later than the initially planned groundbreaking. However, despite the delay, timeframe for the $975 million ground remains confined to August 2016 for delivery.
The stadium designed by HKS Architects will have a permanent dome made partially of glass. Part of the facade will also be transparent and contain large opening walls to make the stadium feel more 'open-air'.