Manchester: Terracing at Old Trafford? United are open to the concept
source: FSF.org.uk / Independent.co.uk / StadiumDB.com; author: michał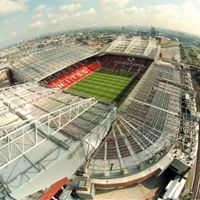 Current exits and stairways are probably too narrow, but if that can be changed, Manchester United are willing to give it a try. The club are to analyse the viability of such conversion and may support the reintroduction of standing sections in England.
As Manchester United are looking to enhance their matchday atmosphere for some time, club officials recently met with supporters on the issue. One of the proposals raised by fans was the introduction of a pilot standing section at Old Trafford.
Ed Woodward, new CEO and once an ardent Essex supporter in the terraces, expressed interest in the concept. The open stance is seen throughout England as a major boost for the 'Safe Standing Campaign' launched by Football Supporters Federation.
The campaigners hope to deliver safe standing sections inspired by a German system nicknamed 'rail seating'. It provides tall railings for standing fans, but also has foldable seats incorporated in the railing. This way the section may be converted from seating to standing (and reverse) in a matter of hours at no expense.
Manchester United's viability analysis is to take various factors into account. On one hand it may not seem too profitable commercially, as ticket prices for standing would have to be cut, but on the other it would surely enhance the atmosphere, potentially allowing more people to get inside.
This cannot happen instantly, though, even if rail seating is installed immediately. Standing room is forbidden throughout Premier League and Championship by 1989 legislation, which would first have to be changed.
But as the campaign gains impetus with 24 clubs (and entire Scottish league) in support and the Football League close to joining altogether, legislation changes seem to be closer than ever since the all-seater conversion.
Should it eventually happen, Manchester United might see a significant increase in attendance, also important when one sees the season ticket waiting list for Old Trafford. In short, rail seating sees 3 standing places per every two seats. Or, in other words, standing section can hold 150% of what the same section holds when fans are seated. So even a modest 3,000-strong section introduced as a pilot might see Old Trafford grow by 1,500 if the legislation gets changed.