Manchester: FC United to start construction in early November
source: Supporters-Direct.org; author: michał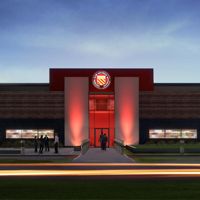 A few years back their plans made some people laugh, but FC United of Manchester are proving skeptics wrong once again. The 7th league club will have their own (though shared) ground in August 2014. Report by Supporters Direct.
Supporter-owned football club FC United of Manchester has announced that building work will start on its new football ground, sports and other community facilities in Moston in early November 2013.
The announcement of a start date follows confirmation of the signing of the lease between FC United and Manchester City Council and the confirmation of all funding for the £5.5m project. Building will start on the site at Ronald Johnson Playing Fields in Moston, north-eastern Manchester and is expected to take around 40 weeks, with a projected completion date of August 2014.
Announcing the building start date, FC United of Manchester general manager Andy Walsh said: "This is a momentous day for FC United of Manchester and also for the local community who will benefit from this facility.
"Project funding has been driven by FC United members, who have raised over £2m and which has helped unlock the support of funders including Sport England, the Football Foundation, Manchester City Council and the Manchester College. The support of these partners has been pivotal. This is a brilliant achievement and one of which everyone connected with the club should be very proud."