Madrid: Decision on revamp soon, naming rights deal planned
source: elconfidencial.com / Football-Espana.net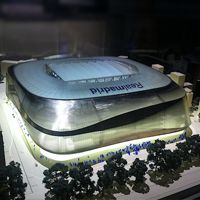 By the end of October it should be clear, which vision of the future stadium will win Real's approval and "if they hurry up" works can begin in the summer of 2014. Naming rights deal is also envisaged soon.
El Confidencial claims it is now official that Real Madrid's Santiago Bernabeu stadium will undergo a change of name.
Club President Florentino Perez has revealed that at the end of October he will announce the project for the stadium, which is due to be remodelled in summer 2014 and will also carry a brand name in its title.
"We want to award the project later this month. There are four candidates for the improvements, and if they hurry up then we'll see if by the summer we can start work on what will be something very emblematic for the 21st century Bernabeu," he told Punto Pelota.
Perez acknowledged that negotiations with companies are ongoing to expand the stadium's name.
"We are working on a sponsor. We are on with it. At best the stadium will have a name added to it if we can find one."
Fly Emirates, the club's main sponsor, are for now favourites to seal an agreement to have their name added to the title.