Liverpool: Compulsory purchase order approved to obtain land around Anfield
source: LiveproolEcho.co.uk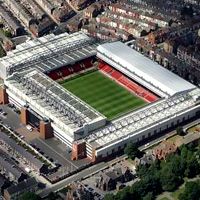 A few dozen houses need to be torn down in direct vicinity of Anfield to make way for 15,000 new seats. To make negotiations with obstructive homeowners easier the city council accepted compulsory purchase order as the final solution.
Liverpool City Council leaders approved the use of compulsory purchase order against owners who are obstructing the redevelopment of Anfield. It is believed that the sole threat of seeing CPO used against them, landlords currently negotiating the highest possible price might reach an agreement with the city.
Mayor Joe Anderson said: "CPOs are the final stage of the process. There are lots of negotiations and discussions to go through but we use them as the final trigger to get action one way or another."
Liverpool authorities are buying well over 300 houses around Anfield to make way for stadium expansion and a further community development that will see some 700 new apartments and new leisure infrastructure.
Currently some 30 houses altogether and 6 in direct vicinity of the stadium still need to be obtained in the process started by Liverpool FC years back, when the club started buying homes for future development. Anfield is expected to grow to roughly 60,000 seats by west and north stands' expansion by 15,000.