Italy: Cagliari return to Cagliari, finally!
source: Football-Italia.net; author: michał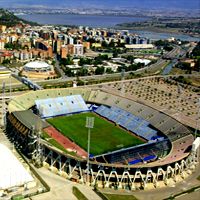 It is now official that Cagliari-Catania will be played at the Stadio Sant'Elia on Saturday afternoon. Safety certificate is in place and the club may return after over a year of exile and scandals. A Football-Italia.net report.
The Sardinians finally got the all-clear for the return to their old stadium after over a year of problems, as the local council awarded a security certificate yesterday evening. This was possible after very basic renovation works were carried out.
There are still limits as the ground is awaiting more building work, so only 4,798 people will be allowed in to the Curva Nord and Tribuna areas of the stadium.
The decision is cutting it final, as the Serie A match with Catania will kick off at 17.00 UK time (16.00 GMT) on Saturday. Tickets will go on sale from tomorrow.
This will be Cagliari's first game at the Sant'Elia since April 1 2012, as the team moved around to the now demolished Is Arenas (dismantled in the summer), the Stadio Tardini in Parma and primarily the Stadio Nereo Rocco in Trieste, some 1,000km away from Cagliari.