England: Tottenham fan arrested for calling himself a "Yid"
source: StadiumDB.com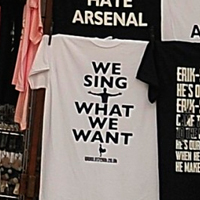 Has the Metropolitan Police gone over the top? Apparently, as at the same time away following was allowed to sing about Adolf Hitler only because they didn't use his name.
Ahead of yesterday's London derby Metropolitan Police issued a warning addressed particularly at Tottenham Hotspur fans, who often define themselves as "Yids". The Met decided to treat this traditional behaviour as abusive and discriminatory from now on, despite the likes of PM David Cameron arguing someone should have the right to call himself a "Yid", should he want to.
The Prime Minister told The Jewish Chronicle: "There's a difference between Spurs fans self-describing themselves as Yids and someone calling someone a Yid as an insult. You have to be motivated by hate. Hate speech should be prosecuted - but only when it's motivated by hate."
This didn't discourage the police from informing fans that officers will be keeping an eye on Tottenham fans. Chief Superintendent Mick Johnson, the match commander, insisted before the fixture that "racism and offensive language have no place in football".
It seems the police approach only incited fans more into using the 'offensive word'. A campaign was launched with the slogan "we sing what we want" and so was the first chant as players entered the field. A lot of "Yids" were then chanted throughout the game.
Police later said that one Tottenham supporter was arrested for allegedly using the word "Yid" in chants. He was held on suspicion of committing a Section 5 Public Order offence at half time in the stadium's East Stand. Also before the game a pub was emptied by police after several people inside used the 'offensive' word in a chant. Interestingly, they were reported to only start singing it once they saw policemen enter the premise.
Already before the match Tottenham Hotspur Supporters Trust released a legal guide for supporters who might face arrest for using the word. Ironically, West Ham fans didn't face the same challenge. In fact they once again sang a chant about Adolf Hitler, even if not as loudly as they used to before. Quite commonly known, the chant saying "he's coming for you" was modified slightly since last year's derby to sound "He's coming for you, he's coming for you, we can't say his name, but he's coming for you".