Budapest: Record pace of new stadium construction
source: orientpress.hu / sporthitradio.hu; author: michał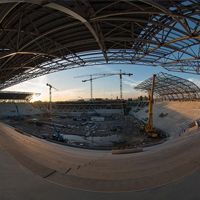 In spring 2013 the old stadium was still standing in Budapest. In spring 2014 the new one for 22,600 people will be nearing completion. This year should see the entire concrete and steel structure standing.
We've praised the construction pace in Debrecen, but it seems that in another Hungarian ongoing stadium project is even more impressive. Back in May general contractor Market was finishing the demolition and already now most of the new stadium is standing.
"I think there is no other stadium in Europe being built so fast, the project is ahead of schedule. I can assure that the 2014/15 season will begin at the new stadium", said Fürjes Balázs, Budapest's investment commissioner. Before the weekend he informed the public that the overall structure of the new Albert Flórian Stadium should be ready by the end of the year, including the 2,800-ton steel roof.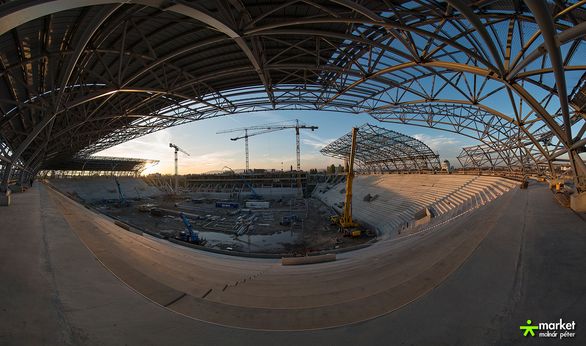 Photo: market.hu
Should this happen, there will only be installations, furnishings and minor construction works left for 2014. All indications say that the new season for Ferencváros TC will indeed begin at the new stadium, able to hold 22,600 people and equipped with 29 skyboxes, more than any other ground in Hungary.
The project worth HUF 14 billion (€48m / $66m) is likely to be delivered in just over one year.